You have a date with the Angels! Prepare yourself for a sizzling encounter with the irresistible Latin men, Angel Santana and Angel Elias. These two heavenly beings will show you firsthand why Latin men are considered the epitome of passion. Brace yourself as their chemistry unfolds in a symphony of desire.
Right from the start, you can feel the electric energy between Angel Santana and Angel Elias. Their lips meet in a fiery kiss, their bodies intertwine with a raw hunger, and their hands explore each other's flesh in a tantalizing dance. Their connection intensifies with every passing moment, as they indulge in the art of seduction.
Angel Santana takes the lead, his voice dripping with desire, as he guides Angel Elias to pleasure him in ways he craves. With an enticing blend of tenderness and dominance, Angel Elias passionately rims Angel Santana and playfully smacks his luscious bubble butt. The anticipation builds, and Angel Santana is eager to be filled by Angel Elias' throbbing cock, his tight hole slick with saliva.
The air is thick with passion as Angel Elias takes control, thrusting deep into Angel Santana's hungry depths. The intensity escalates with each forceful push, and Angel Santana is insatiable, yearning for more. The power dynamics shift, and Angel Santana eagerly mounts Angel Elias, sensually grinding on his pulsating member, reveling in the pleasure of being penetrated.
The climax of their ecstasy approaches as Angel Elias flips Angel Santana onto his back, never once ceasing the thrusts that drive them both to the brink. Angel Santana's body trembles with pleasure as he is simultaneously stroked and fucked relentlessly. The explosive release cannot be contained as Angel Santana explodes with sheer bliss, his seed cascading over both their bodies.
The taste of passion still lingers in the air as Angel Santana hungrily licks up his own essence, using it to fuel his intense self-pleasure. Meanwhile, Angel Elias takes charge, face fucking Angel Santana with a fervor that brings them both to new heights. A glorious eruption ensues as Angel Elias unleashes a torrent of pleasure, coating Angel Santana with his euphoric release.
Despite their exhaustion, their desire for each other remains untamed. They share a sensuous kiss, their lips intertwined in a final act of intimacy, as they bask in the afterglow of their shared passion.
Embark on this seductive journey with Angel Santana and Angel Elias as they ignite the screen with their genuine desire and undeniable chemistry. Experience for yourself why Latin men possess an allure that is impossible to resist. Prepare to be captivated, exhilarated, and left yearning for more.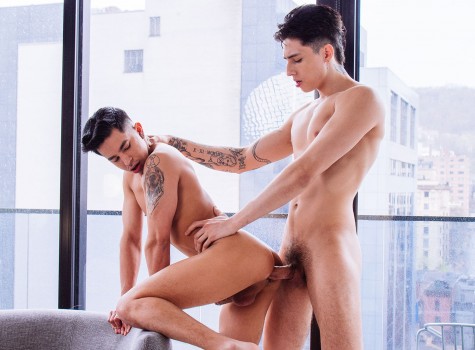 Video by Cocky Boys
Models in this scene
Other Scenes with these Models
Scene published on May 16th, 2023
FAQ about this scene
What makes Angel Santana a unique and captivating performer?
Angel Santana
brings a blend of innocence and naughtiness to his scenes, with a boyish charm and playful nature. His performances are always authentic and full of passion, whether he's engaging in sensual encounters or wild and intense sessions. He knows how to push the right buttons and make fantasies come alive.
What sets Angel Elias apart from other performers?
Angel Elias
is a confident and passionate performer who embraces and explores various sexual roles. He possesses a versatile sexual identity, making him relatable and appealing to a wide range of individuals. Additionally, he confidently wields a big, ever-ready thick dick, leaving viewers craving for more.
How does Angel Santana create an exhilarating experience for viewers?
Angel Santana
's desire to please and explore new boundaries makes every scene he's in a thrilling experience. Whether engaging in sensual and intimate encounters or wild and intense sessions, his performances are always authentic and full of passion, leaving viewers breathless and craving for more.
What makes Angel Elias a captivating performer in the adult entertainment industry?
Angel Elias
possesses a laid-back and easy-going demeanor, allowing him to showcase his true sexual energy and excitement in his performances. He confidently embraces and explores various sexual roles, satisfying his partners and creating an unforgettable experience. His impressive endowment and skill add to his captivating performance.
What can viewers expect from Angel Elias in his performances?
Viewers can expect electrifying performances and the exploration of pleasure with
Angel Elias
. His laid-back and easy-going demeanor allows him to showcase his true sexual energy and excitement. With his versatile sexual identity, he satisfies a variety of interests, leaving viewers captivated and craving for more.
Date published: May 16th, 2023