Angel Santana & Benjamin Blue: A Passionate Flip-Fuck
Buckle up, because this video will take you on a wild and steamy ride with Benjamin Blue and Angel Santana. Prepare to witness a display of sexual chemistry that transcends language barriers, as these two hunks show us that love knows no boundaries.
The mere sight of Benjamin's piercing blue eyes is enough to make Angel swoon. As they come together, it's like watching two long-lost lovers reunite. With each kiss and every article of clothing shed, the passion between them intensifies.
Benjamin takes charge, treating Angel to a sensual blow job and an expert rimming that leaves him weak in the knees. Teasing Angel's eager hole with his cock, Benjamin brings him to the brink of ecstasy. Angel yearns to engulf Benjamin's entire length, but he doesn't have to wait long.
Before you know it, Benjamin slides deep into Angel's tight hole, pounding him with unbridled desire. The pleasure is mutual, as both men are fully immersed in the moment. But suddenly, the tables turn.
Angel, now filled with an insatiable lust, becomes the passionate top. He shows off his skills by rimming, sucking, and fucking Benjamin to blissful moans. As Angel drives his cock into Benjamin's eager hole, something extraordinary happens – Benjamin climaxes hands-free, a testament to the pleasure they're both experiencing.
Their desire only grows stronger, and they switch positions once more. Benjamin takes charge, plowing Angel from behind until he can no longer contain himself. He spills his load, covering Angel's sweet spot. But Benjamin isn't done yet.
With renewed vigor, Benjamin churns up another, even more intense load. He shoots it over Angel's inviting hole, leaving a mark of their unforgettable encounter. As they come together in a passionate kiss, you can feel their reluctance to let go. Their chemistry is undeniable, and they want this moment to last forever.
So, sit back, relax, and immerse yourself in this scorching hot escapade. Angel Santana and Benjamin Blue will leave you breathless, reminding you that love knows no limits.
Enjoy,
Jake Jaxon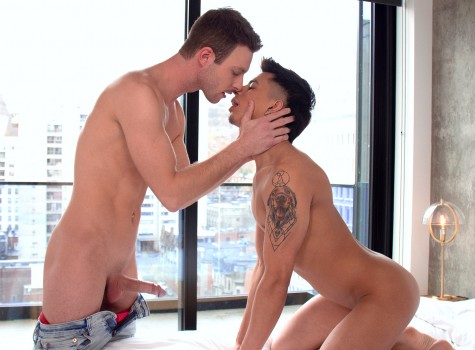 Video by Cocky Boys
Models in this scene
Other Scenes with these Models
Scene published on December 19th, 2022
FAQ about this scene
Benjamin Blue
is known for his captivating blue eyes, bilingual French-Canadian charm, and his passionate and versatile performances in the adult industry.
What makes Benjamin Blue's performances unique?
Benjamin Blue
's performances are unique because they showcase not only his raw sexual energy but also his ability to embody the beauty and elegance of erotic artistry. He seamlessly switches between submissive and dominant roles.
What sets Angel Santana apart as a performer?
Angel Santana
stands out as a performer due to his cute and sweet demeanor, his genuine enjoyment of sex, and his passionate and intense performances. He brings a distinctive Latin flavor to his scenes.
What can viewers expect from Angel Santana's performances?
Viewers can expect a blend of innocence and naughtiness from
Angel Santana
. He has a boyish charm and playful nature that seduces and captivates his audience. His performances are authentic, passionate, and full of desire.
Viewers can follow
Benjamin Blue
and
Angel Santana
on Gay Models to indulge in their captivating content. Join their loyal following and experience the ultimate pleasure and excitement they have to offer.
Date published: December 19th, 2022