Jordan Starr is back at it again, and this time he's brought along the sexy Australian hunk, Bailey Zane, for a wild ride at CockyBoys. These two are no strangers to each other, and their chemistry is off the charts. From the moment they meet in front of a mirror, the sexual tension between them is palpable.
Jordan can't keep his hands off Bailey, kissing and teasing him, while Bailey eagerly reciprocates the affection. The passion intensifies as Bailey goes down on Jordan, eagerly pleasuring him with his mouth. Jordan is in heaven, reveling in the attention his cock receives.
But the real action starts when Jordan decides to fuck Bailey. He takes his time, savoring every moment, before giving it to him harder and faster. Bailey is in ecstasy, feeling the full force of Jordan's desire. Their connection is undeniable as Jordan gets Bailey to ride him, making him take every inch of his throbbing cock.
Not wanting to be outdone, Bailey shows Jordan just how much he adores his cock. With unmatched passion, Bailey sucks him off once again, making sure Jordan is left breathless. The intensity reaches its peak when Bailey sits on Jordan's cock, taking it so deep that it disappears from sight.
Jordan is a generous lover, and he's not done with Bailey yet. He delights in giving Bailey pleasure, switching between sucking him sensually and pounding him relentlessly. Bailey's moans fill the air as he bounces on Jordan's cock, finally reaching his climax and filling Jordan's mouth with his warm cum.
But the action doesn't stop there. Jordan takes control once again and continues to pound Bailey's eager hole until he can't hold back any longer. With one final thrust, he releases his load, leaving Bailey thoroughly bred.
This scorching encounter between Bailey Zane and Jordan Starr will go down in CockyBoys history as a true milestone. The passion, intensity, and raw desire that these two share is unparalleled. Join them on this unforgettable journey and experience the thrill for yourself.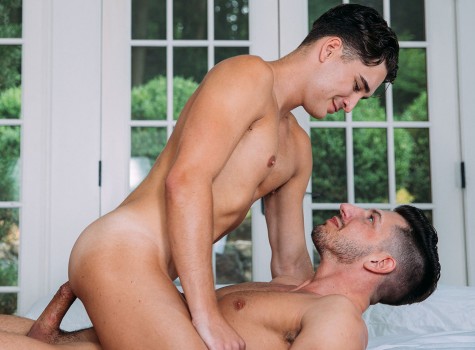 Video by Cocky Boys
Models in this scene
Other Scenes with these Models
Scene published on September 5th, 2023
Date published: September 5th, 2023