Get ready for some steamy action with the scorching hot Aussie Braxton Cruz as he makes his unforgettable debut on CockyBoys. Teaming up with the exclusive stud Daniel Evans, these two hunks are not just excited, but genuinely infatuated with each other. Their sexual chemistry is off the charts from the very beginning, creating an explosive atmosphere that will leave you begging for more.
As Daniel leans in for a passionate necking session, he can already feel the anticipation building for Braxton's impressive package. And boy, does he deliver! After some intense making out, Daniel eagerly drops down on his knees, determined to tackle the challenge of satisfying Braxton's insatiable hunger. With an insistent hunger in his eyes, Daniel takes every inch of Braxton's substantial member, leaving nothing to chance.
But it's not all one-sided pleasure, as Braxton reciprocates Daniel's enthusiasm by passionately kissing him between thrusts. The heat continues to rise as Braxton presses Daniel against the wall, expertly diving his face into Daniel's tight hole. With each inch, the intensity amplifies, proving Daniel's insatiable desire for Braxton's massive manhood.
Braxton, now taking on the role of a dominant alpha, turns Daniel around, ready to ride him like a wild stallion. With an effortless lift, Braxton suspends Daniel mid-air, pounding him relentlessly with raw power. The energy between them is palpable, vibrating with the unyielding force of Braxton's monstrous appendage.
The climax approaches, and Braxton shows no signs of letting up. As he thrusts into Daniel with unrelenting vigor, it becomes evident that he cannot contain himself any longer. With one final push, he drives a mammoth load out of Daniel's trembling body, marking his territory and claiming complete ownership. The sight triggers Braxton's own release, as he shoots a spectacular rocket of cum, sealing their connection and leaving them both breathless.
After their explosive encounter, the smiles return to their faces, but promptly vanish as they lock lips in a spellbinding display of passionate kissing. With their desires sated for now, they revel in the afterglow, knowing that this unforgettable encounter has only fanned the flames of their insatiable hunger for one another.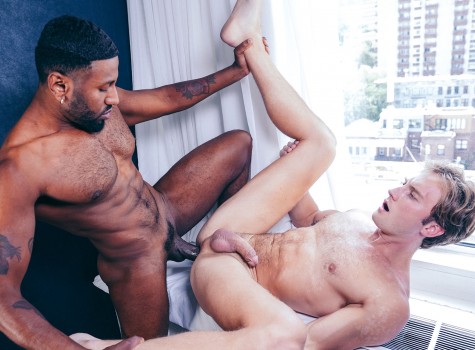 Video by Cocky Boys
Models in this scene
Other Scenes with these Models
Scene published on September 12th, 2023
Date published: September 12th, 2023