Braxton Cruz and Jordan Starr bring their sizzling chemistry to the screen once again in this tantalizing video titled "Braxton Cruz & Jordan Starr." These two versatile studs are a match made in heaven, and as the video unfolds, you'll see exactly why.
They start off with some passionate making out, their desire for each other evident in every touch and caress. As experienced lovers, they know exactly how to pleasure one another, and their eager mouths explore each other's well-endowed bodies with expertise and gusto.
But their oral skills are just the beginning. Braxton takes things up a notch by diving face-first between Jordan's legs, expertly devouring his tight hole. The anticipation builds as Braxton prepares Jordan for the main event, slowly inching his way inside, and it's clear that Jordan is more than ready for what's to come.
As Braxton thrusts harder, Jordan's pleasure only intensifies, pushing him to new heights of ecstasy. His moans and gasps drive Braxton to take charge, and he positions Jordan on top, allowing him to ride his thick cock with unrivaled fervor. The sparks fly as their bodies collide, fueled by an intense energy that only two passionate men can create.
But the action doesn't stop there. Braxton flips Jordan onto his back, gripping his hips tightly as he continues to pound into him with unrelenting force. The primal desire between them is palpable, and as Braxton finally pulls out and releases his load, the room is filled with an intoxicating mixture of pleasure and satisfaction.
However, both Braxton and Jordan's hunger for each other is insatiable. Ignoring the pleas for respite, Braxton resumes his fierce fucking, driving Jordan to the brink of ecstasy once again. It's a testament to their undeniable chemistry that even after releasing his own load, Braxton's desire for Jordan remains unwavering, and he thrusts into him with renewed vigor until Jordan finds release once more.
In the aftermath of their passionate encounter, Braxton and Jordan share lingering kisses, their bodies still buzzing with the aftershocks of pleasure. It's a testament to the emotional connection between them, as their lips meet in sweet intimacy, reaffirming the depth of their desire and affection.
So, get ready to immerse yourself in the scorching heat of Braxton Cruz and Jordan Starr's passionate rendezvous. This video is a feast for the eyes, showcasing the electrifying connection between two men who know exactly what they want and aren't afraid to go after it. Brace yourself for a wild ride that will leave you breathless and yearning for more.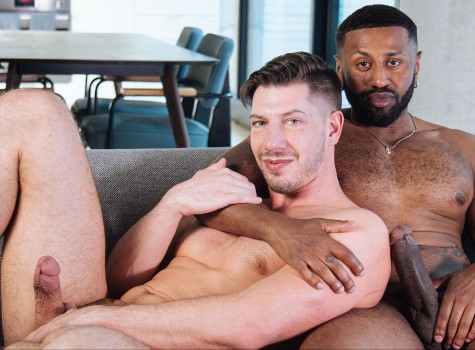 Video by Cocky Boys
Models in this scene
Other Scenes with these Models
Scene published on October 24th, 2023
Date published: October 24th, 2023