Get ready for a wild and steamy ride with the sensational video titled "Chris Andy & Tristan Hunter"! In this exclusive CockyBoys production, the electrifying chemistry between cocky hottie Tristan Hunter and the irresistible Chris Andy is about to set your screens on fire.
From the moment these two studs lock eyes, you can feel the energy and desire oozing between them. Their sensual foreplay kicks off with an exchange of heartfelt compliments, passionate kisses, and some tempting mutual cock play that leaves both men craving for more.
As the heat intensifies, Tristan can't resist the temptation to explore Chris' smooth hole with his skilled fingers. The craving for pleasure takes over, and Tristan treats Chris to the ultimate oral extravaganza, leaving him breathless with his expert cock-sucking and skillful ass-licking. The anticipation builds with each passing moment.
But that's not all – Tristan reveals his true versatility as he eagerly fulfills Chris' deepest desires as a giving top. With dominating authority, he pounds Chris with an insatiable hunger, showcasing his prowess in the art of pleasure. Chris surrenders himself to Tristan's every whim, reveling in the intense ecstasy of being taken by a skilled lover.
As the intensity reaches its peak, Chris becomes the master of his own pleasure, riding Tristan with the confidence of a bottom champ. Equipped with Tristan's helping hand, Chris brings himself closer to the edge of ecstasy, exploding in a mind-blowing climax that paints Tristan's chest with a tremendous load. Not one to hold back, Chris also treats Tristan to a thick facial, leaving both men gasping for breath in the aftermath.
But their passionate connection doesn't stop there. Tristan, overflowing with genuine satisfaction, decides to take things even further. He vigorously breeds Chris, sealing their lust-filled encounter with a final electrifying exchange of pleasure.
Prepare yourself for a video that delves deep into the art of desire, pleasure, and undeniable connection. "Chris Andy & Tristan Hunter" sets a new standard for sensual, naughty content that will leave you begging for more. Lose yourself in the intensity and passion of these two extraordinary performers as they explore each other's bodies and minds in ways that will leave you breathless. Get ready for a truly unforgettable experience!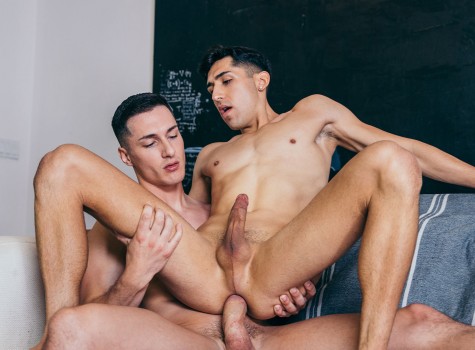 Video by Cocky Boys
Models in this scene
Other Scenes with these Models
Scene published on July 11th, 2023
FAQ about this scene
The chemistry between
Tristan Hunter
and
Chris Andy
is electrifying. From the moment they lock eyes, you can feel the energy and desire oozing between them. Their interactions are intense and passionate, setting the screens on fire.
In this scene,
Tristan Hunter
showcases his versatility by playing both a giver and a receiver. He treats
Chris Andy
to an oral extravaganza and also pounds him with dominating authority.
Chris Andy
embraces the role of a confident bottom and also brings himself to the edge of ecstasy.
What sets Tristan Hunter apart from other adult performers?
Tristan Hunter
's magnetic charm, seductive persona, and unparalleled versatility set him apart from other adult performers. He adapts to any role or situation, bringing fantasies to life. His quick wit, infectious sense of humor, and ability to forge intimate connections make his performances truly immersive.
What are some of Chris Andy's notable qualities as an adult performer?
Chris Andy
captivates audiences with his charismatic presence, infectious smile, and playful personality. He creates intimate connections and adds a layer of seduction to his performances. Chris's sexual energy is palpable, engaging viewers through passionate movements and intense eye contact.
Viewers can expect a thrilling adventure filled with intense desire, pleasure, and undeniable connection. The scene delves deep into the art of sensuality and features the extraordinary performances of
Tristan Hunter
and
Chris Andy
, leaving viewers breathless and begging for more.
Date published: July 11th, 2023