CockyBoys Exclusive Daniel Evans and Eric Rey star in this sizzling hot video that takes instant attraction to a whole new level. From the moment they meet, their chemistry is palpable, igniting a flame that burns hotter than they ever imagined. Prepare for a wild ride as they explore each other's desires and unleash their carnal fantasies on one another.
It all begins when Daniel and Eric discover their unique physical turn-ons. Eric's nipples become a focal point of desire for both of them, while Daniel's neck becomes an irresistible temptation. Their foreplay takes an electrifying turn as they indulge in the pleasure of these erogenous zones.
As the intensity builds, Daniel eagerly devours Eric's hole, sending waves of pleasure through his body. Eric reciprocates by taking Daniel deep into his mouth, relishing in every moment. The passion between them is so intense that Eric can't resist going back for more in between positions.
But what really sets their encounter on fire is their shared love for fucking. Daniel takes control, thrusting into Eric from behind, igniting sensations that send pulses of ecstasy through their bodies. Eric revels in being an active bottom, riding Daniel's cock with wild abandon, especially when his nipples are stimulated.
Daniel doesn't miss a beat in his pursuit of Eric's pleasure. He flips him onto his back, skillfully pleasuring him orally before plunging deep into his waiting hole. With every thrust, he expertly toys with Eric's sensitive nipples, heightening his pleasure to unimaginable heights.
The energy between them grows, reaching its climax as Daniel fucks a mind-blowing load out of Eric. In a passionate display of desire, Daniel also shoots his own load with Eric's verbal encouragement. Their connection is so intense that someone is already asking for another round, a testament to the pure heat they have created together.
If you're ready to witness a sexual encounter that transcends your wildest dreams, this video is one you can't afford to miss. Daniel Evans and Eric Rey deliver an unforgettable performance that will leave you breathless and yearning for more. Brace yourself for an experience that pushes the boundaries of pleasure and unlocks a world of erotic exploration.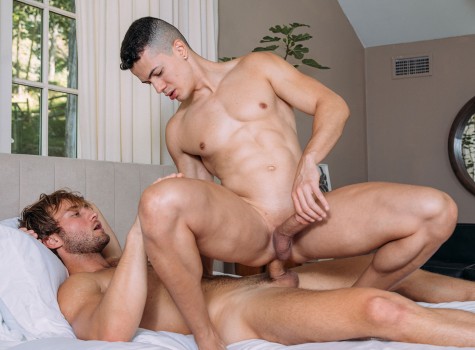 Video by Cocky Boys
Models in this scene
Other Scenes with these Models
Scene published on October 12th, 2023
Date published: October 12th, 2023