Evan Knoxx is ready to embrace his submissive side once again, and this time, he's in for a treat with the commanding and vocal Dom King! Watch as Dom effortlessly takes control, making Evan earn every bit of pleasure through the power of his words.
Right from the start, Evan finds himself worshipping Dom's incredibly hot and irresistible body. With every touch and stroke, he is reminded of his place as Dom's obedient submissive. Evan obediently follows Dom's commands, eagerly sucking his cock with devotion and skill.
But Dom craves more, and Evan is more than willing to provide. As Evan succumbs to Dom's face-fucking, the dominance and power of the situation only intensifies for both of them. Dom seizes the opportunity to virtually plow Evan's throat, showing no mercy and embracing the control that fuels his desires.
No longer satisfied with just oral pleasure, Dom takes Evan from behind, unleashing a wave of both pleasure and manhandling. Evan can't contain his ecstasy, expressing just how good it feels to be dominated by Dom. And to prove his heightened arousal, Evan eagerly impales himself on Dom's cock, showcasing his desire to submit to every inch of Dom's dominant presence.
But Dom's domination reaches its peak as he relentlessly pounds Evan, asserting his power by holding him by the throat and delivering punches to his pecs. The exchange of pleasure and pain ignites a fire within both of them, culminating in a mind-blowing climax. Dom releases a powerful load from within Evan, a visual representation of their exhilarating success.
As the intensity subsides, Dom plants his cock deep inside Evan, staking his claim with every passionate thrust. And with a silent but passionate kiss, Dom assures Evan that he has been a good boy, affirming their connection and the fulfillment of their shared desires.
Prepare yourself for an unrivaled display of dominance, submission, and mind-blowing pleasure in this extraordinary encounter between Dom King and Evan Knoxx. Are you ready to witness the ultimate exploration of their desires? Get ready to be captivated!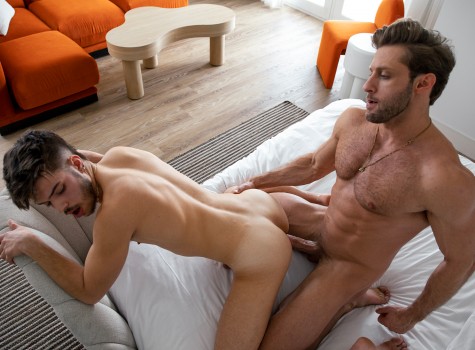 Video by Cocky Boys
Models in this scene
Other Scenes with these Models
Scene published on March 14th, 2023
FAQ about this scene
What is the scene called?
Who is the dominant actor in the scene?
The dominant actor in the scene is
Dom King
.
Who is the submissive actor in the scene?
Dom King
effortlessly takes control of
Evan Knoxx
, who willingly follows his commands as a submissive. The power and dominance intensify as Evan worships and obeys Dom, culminating in a mind-blowing climax.
What is notable about Evan Knoxx's role?
Evan Knoxx
embraces his submissive side and expresses his desire to be dominated by
Dom King
. He eagerly provides pleasure and willingly submits to every inch of Dom's dominant presence.
Date published: March 14th, 2023