Come witness the explosive chemistry between CockyBoys Exclusive Nick Floyd and Dom King in this scintillating video titled "Dom King & Nick Floyd". Brace yourself for a wild ride as these two hunks explore their deepest desires and push the boundaries of pleasure.
From the moment these cocky boys lock eyes, you can feel the electrifying tension building. Nick Floyd, with his craving for a dominant top, finds the perfect match in Dom King, who is more than willing to fulfill his every wish and more.
As the scene unfolds, the initial flirtation quickly transforms into an intense, carnal exchange. At Dom's command, Nick eagerly embraces his submissive side, feverishly deep-throating his throbbing member. With each inch devoured, Nick sends Dom into a frenzy of ecstasy.
Driven by a commanding desire to assert his dominance, Dom demonstrates his power by manipulating Nick's body with an insatiable hunger. He treats him like a sex doll, exhibiting his skills through an alluring reverse pile-driver position that leaves no doubt as to who is in control.
The intensity escalates as Dom orders Nick to "ride daddy's cock," prompting him to mount the throbbing shaft with unbridled enthusiasm. Nick complies, surrendering to every whim and desire Dom expresses, relishing in the overwhelming pleasure coursing through his veins.
It becomes abundantly clear that Dom's muscular prowess adds another layer of excitement to their fiery encounter. Astonishingly, he hoists Nick mid-air, allowing them to engage in passionate thrusts that defy gravity, proving that pleasure knows no bounds.
In a display of mind-boggling flexibility, Nick showcases his jaw-dropping capabilities while being ravished on his back, serving to further ignite Dom's desire. With each powerful stroke, Dom unleashes a torrent of pleasure, culminating in an explosive climax that leaves them both breathless.
Their connection completes as Dom gratifyingly releases his essence onto Nick's luscious hole, sensually sliding it in, fulfilling his submissive's request. In this exchange, Dom reveals genuine gratitude for the vulnerability Nick has shared—the ultimate display of trust.
Join us in experiencing the tantalizing fusion of passion, dominance, and desire in "Dom King & Nick Floyd." This boundary-pushing encounter will leave you yearning for more of the raunchy and seductive world captured by CockyBoys.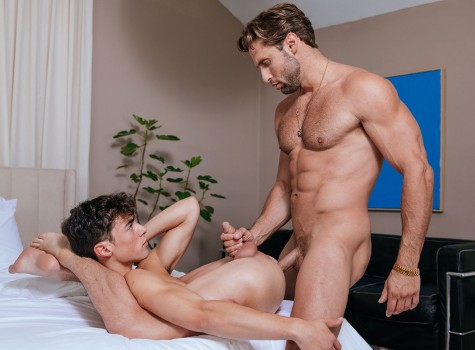 Video by Cocky Boys
Models in this scene
Other Scenes with these Models
Scene published on September 21st, 2023
Date published: September 21st, 2023