Are you ready for some steamy action? Look no further than Evan Knoxx & Jack Aries! Jack Aries is absolutely smitten with CockyBoys Exclusive Evan Knoxx, and can you blame him? Evan is definitely his type, and the feeling is mutual. They both agree that they want to have some serious fun in the bedroom. Jack loves to give his partners exactly what they want, and Evan? Well, he wants to be fucked hard. Lucky for him, Jack is more than willing to oblige.
Right from the start, the chemistry between these two is undeniable. Jack gets right down to business, eagerly eating out Evan's hole. Evan reciprocates by sucking Jack, an exchange that proves to be just the beginning of their fiery encounter. Once things really heat up, Jack takes control, pounding Evan's eager hole with unbridled passion. And Evan? Well, he loves every minute of it, reveling in the intense pleasure.
Not one to miss an opportunity, Jack doesn't hesitate to devour Evan's impressive member, adding even more fuel to the already blazing fire. As the heat between them reaches its peak, Evan finds himself unable to hold back any longer, releasing his load in a moment of pure ecstasy. And Jack? Well, he eagerly takes it all in, savoring every last drop.
But the fun doesn't stop there. Jack continues to satisfy Evan's every desire, finishing off their wild romp by taking Evan from the side, leaving nothing to the imagination as he releases a massive load all over Evan's hole, ultimately breeding him and bringing their incredible encounter to a close. For Evan, Jack, and anyone lucky enough to witness their passionate energy, it's total satisfaction all around!
So, if you're in the mood for some seriously sizzling action, Evan Knoxx & Jack Aries are here to deliver. Don't miss out on this scorching hot video!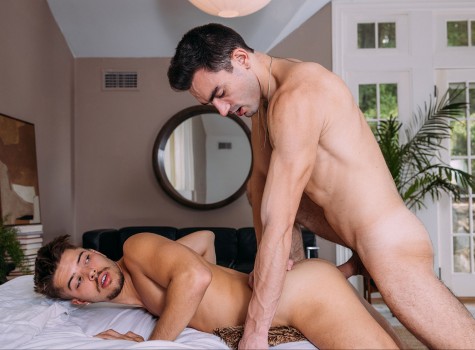 Video by Cocky Boys
Models in this scene
Other Scenes with these Models
Scene published on November 16th, 2023
Date published: November 16th, 2023