Get ready for a wild and playful ride with Jack Waters and Tristan Hunter in this steamy video. These two studs are about to take you on an unforgettable journey filled with naughtiness, passion, and pure enjoyment. Brace yourself!
From the moment they come together, the chemistry between Jack Waters and Tristan Hunter is impossible to ignore. You can practically feel the energy and excitement radiating from them. Jack has a mischievous smile on his face, and for good reason. After all, he's paired up with the irresistible Tristan, and the anticipation is intoxicating.
Tristan doesn't waste any time diving into Jack's cute, furry hole, giving him a thorough licking that leaves Jack craving for more. And more he gets! As Jack's uncut cock is sucked by Tristan, the pleasure intensifies, sending waves of erotic joy throughout his body.
With each moment that passes, the connection between them grows stronger. They trade blowjobs, eagerly devouring one another's throbbing members, reveling in the sensation of their passionate exchange. But it's when Tristan takes the plunge, thrusting himself deep into Jack's throat, that things really heat up.
There's a palpable sense of desire as Tristan prepares Jack's hole with his mouth, making sure it's slick and ready for their upcoming adventure. And when the moment finally arrives, Tristan fucks Jack with a fervor that leaves them both breathless. Passion and pleasure collide, as Tristan gives it to Jack harder and harder, pushing them to new heights of ecstasy.
Their positions change, but the intensity remains. Each switch brings a fresh wave of pleasure, both for Jack and Tristan. When Jack takes control, riding Tristan with all his might, the passion becomes explosive. It's a relentless rhythm that drives Jack to the edge, culminating in a climax that sends him shooting over Tristan. And in return, Tristan sucks him dry, giving Jack a cumshot and a facial that leaves him gasping for air.
Their euphoria is contagious. The joy and excitement in their eyes speak volumes about the fun they've had. This video is a testament to the power of connection and the pleasure that can be found when two people let go and embrace their desires.
So, are you ready to join Jack Waters and Tristan Hunter on their playful and naughty adventure? Buckle up and get ready for a wild ride that will leave you breathless and begging for more!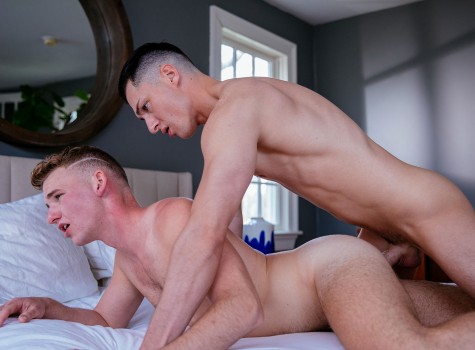 Video by Cocky Boys
Models in this scene
Other Scenes with these Models
Scene published on May 23rd, 2023
FAQ about this scene
Jack Waters
and
Tristan Hunter
have an undeniable chemistry that radiates energy and excitement. Their connection is palpable, and it intensifies as they explore their desires and pleasure each other.
How does Tristan prepare Jack's hole for their adventure?
Tristan prepares Jack's hole with his mouth, ensuring it's slick and ready for their upcoming adventure. This adds to the anticipation and sets the stage for the intense pleasure that follows.
What is unique about Tristan Hunter as an adult performer?
Tristan Hunter
is known for his versatility as an adult performer. He can adapt to any role or situation, bringing fantasies to life and creating an immersive experience for viewers.
What sets Jack Waters apart from other adult performers?
Jack Waters
stands out with his captivating charm and incredible talent. Not only is he skilled in front of the camera, but he is also a dedicated non-sex content creator and passionate philanthropist.
What makes Jack Waters a unique and captivating performer?
Jack Waters
' appeal goes beyond his physical attributes. He is a passionate philanthropist who uses his platform to make a positive impact. His captivating charm and incredible talent make him a force to be reckoned with in the industry.
Date published: May 23rd, 2023