Get ready for an explosive match-up you've all been waiting for! In this steamy and highly anticipated video, Jordan Starr and Tristan Hunter come together to ignite the screen with their undeniable chemistry. These two hotties have been longing for this moment for years, and now their desires are finally fulfilled.
The passion between Jordan and Tristan is palpable right from the beginning. They start off with a slow-burning make-out session, reveling in the anticipation of what's to come. Both men are well-endowed, and they can't resist the urge to pleasure each other's big, throbbing dicks.
In a moment of intense desire, Jordan turns his attention to Tristan's tight hole, driving him wild with a tantalizing mix of licks and teases. The anticipation builds until Jordan can resist no longer, and he slides into Tristan from a sideways angle, thrusting deep into him.
Tristan can't help but moan in pleasure as Jordan takes control and dominates him with his self-assured presence. With each powerful thrust, Jordan's big dick energy only grows stronger, fueling both his own pleasure and Tristan's ecstasy. Their connection intensifies as they explore new heights of pleasure together.
But Jordan isn't satisfied with just one position. He wants to experience Tristan in every way possible. He watches the expressions of pleasure on Tristan's face as he rides his cock, savoring every moment. And just when you think things couldn't get any hotter, Jordan takes complete control.
Flipping Tristan over, Jordan pins him down and enters him with a fervor that can only be described as primal. The pleasure mounts with each powerful thrust, and it's not long before Tristan reaches his peak and explodes with a mind-blowing release.
But their journey doesn't end there. Jordan is far from finished. He craves more, and he's determined to satisfy his insatiable appetite. As they catch their breath and revel in the intensity of the moment, Jordan knows that round two is just around the corner.
So sit back, relax, and prepare to be blown away by the electrifying passion and pure desire that Jordan Starr and Tristan Hunter unleash in this unforgettable encounter. They've been waiting for this moment, and now it's time for you to witness their undeniable connection for yourself.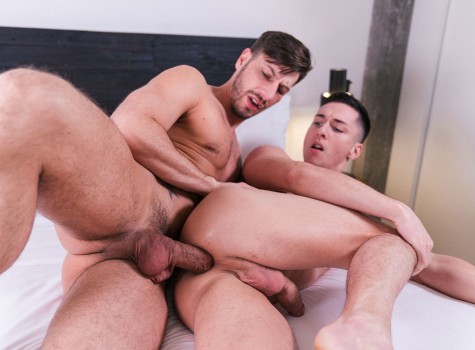 Video by Cocky Boys
Models in this scene
Other Scenes with these Models
Scene published on June 5th, 2023
FAQ about this scene
The chemistry between
Jordan Starr
and
Tristan Hunter
is palpable. They have been longing for this moment for years, and their desire is finally fulfilled. Their passion is evident from the beginning, with a slow-burning make-out session that sets the stage for an explosive encounter.
Jordan Starr
takes on the role of the dominant top, while
Tristan Hunter
explores his more submissive side. Their interactions are intense and dynamic as Jordan takes control and dominates Tristan with his self-assured presence.
What makes Tristan Hunter stand out as an adult performer?
Tristan Hunter
's versatility sets him apart from his peers. He can adapt to any role or situation, making him the perfect performer for any fantasy. Whether playing a dominant lover or a submissive plaything, Tristan brings desires to life with his unrivaled talent.
What qualities make Jordan Starr a captivating adult performer?
Jordan Starr
is known for his charismatic and energetic presence. His infectious smile and genuine enthusiasm make him a breath of fresh air in the industry. He is willing to push boundaries and explore different roles, adding an exciting element to his performances.
Viewers can expect an electrifying display of passion and desire. Jordan and Tristan's undeniable connection is on full display as they explore new heights of pleasure together. Their intense chemistry, combined with their versatile performances, promises an unforgettable experience.
Date published: June 5th, 2023