Are you ready for a wild and steamy encounter that will leave you breathless and wanting more? Look no further than the intense and exhilarating video titled "Kyle Denton & Theo Brady"! This explosive video features two incredibly talented men who bring a whole new meaning to the term "combat-trained."
In this exciting adventure, Kyle Denton, an ex-marine with combat skills, meets Theo Brady, a mixed martial arts expert, and the result is a mind-blowing flip-fuck experience. These two alpha males waste no time, as they indulge in a sensual display of power and domination.
After sharing their impressive backgrounds, Theo takes the lead and shows Kyle how to put him in a headlock. But what follows is not your typical wrestling move. Instead, Kyle uses this opportunity to assert his control by getting Theo to passionately suck his cock. As Theo services him willingly, Kyle's dominant nature becomes apparent through his vocal commands.
But Kyle doesn't stop at receiving oral pleasure; he wants to explore every inch of Theo's body. Eager to take control, Kyle proceeds to ravish Theo by eating out his tight hole and fingering him. With a hunger for more, Kyle positions himself on top of Theo and begins drilling him passionately. Gripping him by the neck, Kyle simultaneously dominates him verbally, adding a teasing element to their intense connection.
However, things take a surprising turn when Theo decides to use his wrestling skills to flip Kyle onto his stomach. Seizing the opportunity, Theo takes control and proceeds to fuck Kyle's muscled ass with unwavering determination. The tables have turned, and Kyle embraces his submissive side, allowing Theo to pound him deeply and how he likes it. As the pleasure intensifies, Kyle eagerly services Theo's throbbing cock, fully submitting himself to Theo's desires.
Driven by an insatiable hunger for pleasure, Theo then positions Kyle on his back, ready to pound him with unparalleled intensity. The chemistry between these two is undeniable as Theo thrusts relentlessly, extracting load after load of pleasure from Kyle's wrecked hole. Finally, in a crescendo of passion, Theo shoots his massive load all over Kyle, marking his territory and completely claiming him.
But it seems that Kyle is not yet satisfied. After such an intense encounter, he craves a rematch, eager to once again experience the electrifying connection with Theo. Will Theo oblige and engage in another thrilling round of dominant pleasure? Only time will tell!
So, brace yourself for a unique and pulse-pounding experience with "Kyle Denton & Theo Brady." Watch as these two exceptionally skilled men redefine the boundaries of pleasure, dominance, and submission. Enjoy the captivating journey, where explosive chemistry and uninhibited desires collide in a frenzy of raw passion.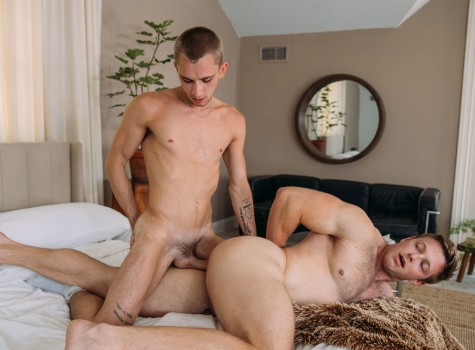 Video by Cocky Boys
Models in this scene
Other Scenes with these Models
Scene published on November 2nd, 2023
Date published: November 2nd, 2023