Trevor Brooks makes his debut on CockyBoys and delivers a sensational performance, topping the stunning Nick Floyd. However, Trevor is in for a treat as he gets to partake in the "Nick Floyd Experience"! Right from the start, it's evident that Nick possesses a deep appreciation for passionate sensuality, and he effortlessly brings out Trevor's desires in the tub with a steamy and wet foreplay session. But it's in bed where their chemistry truly ignites.
Trevor quickly discovers that Nick has an incredibly flexible and beautiful body, adding a touch of excitement to their encounter. He skillfully navigates Nick's smooth hole, indulging in the pleasure of eating him out and gradually sliding his cock inside— all while Nick's legs are impressively crossed behind his neck! Regardless of the position, Trevor chooses to explore, their sensuality remains constant, as does their relentless need to engage in passionate kisses. As the intensity builds, the dynamics between the pair grow stronger, especially when Nick takes control and rides Trevor's cock.
With each thrust, Trevor works up a sweat, exerting himself to please Nick. Meanwhile, he returns the favor by stroking Nick's cock, intensifying the sensations coursing through their bodies. Eventually, Trevor's vigorous efforts result in a mind-blowing climax as Nick releases a high-flying burst of cum, landing on Trevor's face and adorning his abs. Not wasting a moment, Trevor swiftly repositions himself, mounting Nick for an intense session of his own, climaxing with a thick and satisfying load that he eagerly breeds Nick with. Completely spent and overwhelmed by the sheer heat of their encounter, the two are caught in a moment of stunned silence, their desires satiated.
This video showcases an explosive and unforgettable encounter between two incredibly passionate individuals. Trevor and Nick's chemistry is palpable from the very beginning, and their compatibility takes their exploration to new and thrilling heights. Don't miss out on this scorching display of desire, sensuality, and the profound connection between two men.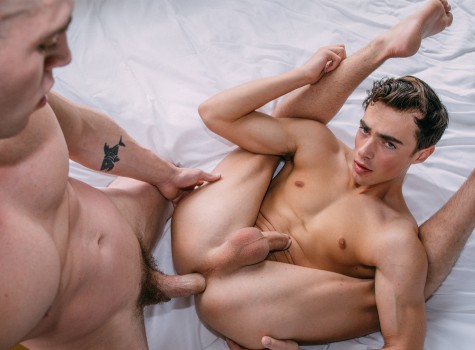 Video by Cocky Boys
Models in this scene
Other Scenes with these Models
Scene published on April 4th, 2023
Date published: April 4th, 2023