Theo Brady and Tristan Hunter are taking their fun to new heights in this exhilarating rowboat excursion on the lake. But little do they know, the real excitement awaits them indoors, where they take their passion to the next level, climaxing in a cum-soaked frenzy.
From the moment they step foot in the cottage, the sexual tension between these two exclusive CockyBoys is palpable. No time for formalities, they dive right in and start making out, their bodies yearning for each other's touch. And just when Tristan claims to be tired, he surprises everyone with an intense burst of energy as he eagerly goes down on Theo, hungrily devouring his big, throbbing cock.
Theo can't help but surrender to the pleasure coursing through his body as Tristan relentlessly sucks him off. In an act of reciprocation, Theo strokes their dicks together and bends over to feast on Tristan's tight, eager hole from behind. The passion is electric as the intensity builds, and Theo takes charge, pounding Tristan with raw passion.
Although Theo usually loves his role as the powerful top, he can't resist the fascinating energy that Tristan exudes as a power bottom. In a breathtaking display of dominance, Tristan rides Theo's cock with the confidence of someone who knows exactly what they want. Every deep thrust is met with absolute ownership, intensifying the pleasure for both of them.
But that's not all – as a generous lover, Theo reciprocates the pleasure by delivering a mind-blowing cock-sucking session to Tristan. With their connection deepening, Theo takes Tristan over the edge, drilling him on his back, while Tristan revels in the exquisite sensations flooding his body.
Theo reaches the point of no return first, his body trembling with ecstasy as he releases thick, hot globs of cum all over Tristan's eager and satisfied form. But the passion doesn't end there – Theo continues to fuck Tristan until he can't hold back any longer, causing Tristan to explode with his own powerful orgasm, soaking himself in pure pleasure.
This summer afternoon was not just intense; it was super-satisfying for both Tristan and Theo. Their connection soared to unimaginable heights on that rowboat excursion, leaving them both drenched in ecstasy and longing for more.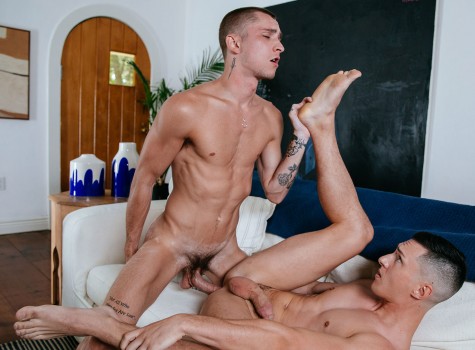 Video by Cocky Boys
Models in this scene
Other Scenes with these Models
Scene published on September 14th, 2023
Date published: September 14th, 2023