Get ready to witness a sizzling encounter between two of the hottest studs in the adult entertainment industry. In this electrifying video, Tony Genius and Ty Santana bring a whole new meaning to the term "chemistry" as they indulge in an intense display of passion and pleasure.
From the moment they lock lips, it's clear that there's a fiery connection between these two performers. Their bodies intertwine in a sensual dance, as they explore each other with an insatiable hunger for more. The way they caress and tease each other leaves no doubt that they are completely immersed in the moment.
As the action heats up, the atmosphere becomes charged with raw energy. Tony's expert control over his powerful bubble butt makes for an exhilarating ride, as he teases and tantalizes Ty with every movement. The tension builds with every thrust, creating an electrifying back-and-forth that leaves both men breathless.
Ty takes charge with a powerful display of dominance, pounding Tony's eager hole with unbridled passion. However, Tony's mesmerizing hip movements and semi-twerking skills elevate the encounter to a whole new level of intensity. The connection between them is palpable as they lock eyes in a fierce and unyielding exchange.
By the time they reach the peak of ecstasy, the room is filled with sweat and the air crackles with anticipation. Ty unleashes a powerful release, leaving Tony drenched in the aftermath of their explosive encounter. It's a display of pure, unadulterated pleasure that leaves both men breathless and completely spent.
So, if you're ready to witness a truly unforgettable performance filled with passion, intensity, and a whole lot of sweat, then this video is an absolute must-see. Are you ready to experience the electrifying chemistry between Tony Genius and Ty Santana? Because once you hit play, there's no turning back.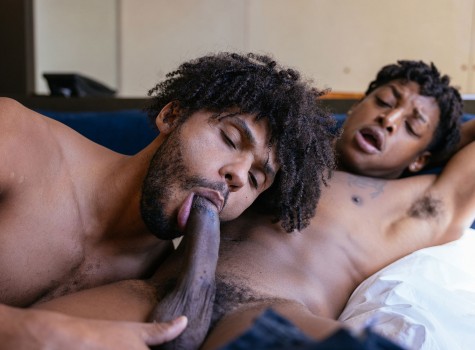 Video by Cocky Boys
Models in this scene
Other Scenes with these Models
Scene published on November 9th, 2023
Date published: November 9th, 2023