Grant Ducati and Gabriel Clark are two hot and playful men who can't resist each other's charms. In this video, they strike up a naughty "deal" for their scene, where they both get to enjoy each other's most tantalizing assets.
Grant is mesmerized by Gabriel's foreskin and can't wait to explore every inch of it. Meanwhile, Gabriel has his eyes set on Grant's irresistible ass. They both know that pleasure awaits them, and they are ready to indulge in their deepest desires.
As the scene unfolds, Gabriel takes the lead, seducing Grant with passionate kisses that make his head spin. Grant eagerly surrenders to the touch of Gabriel's uncut cock, savoring every moment of their encounter.
But Gabriel is not content with just one act of pleasure. He turns his attention to Grant's hole, giving it the attention it craves. With the same enthusiasm, he explores every inch of Grant's cock and balls, leaving Grant begging for more.
Switching things up, Gabriel positions Grant in a unique and exhilarating way, ready to show off his skills as a top. Grant's face lights up with ecstasy as Gabriel penetrates him from the side, hitting all the right spots.
But Gabriel's dominance doesn't end there. He takes Grant on a wild ride, pounding his eager hole in every position imaginable. Grant can't help but surrender to the pleasure, relishing every sensation.
And when Gabriel wants Grant to take control, Grant eagerly straddles his cock, ready to ride it with abandon. Both men lose themselves in the moment, unleashing their raw desires until the ultimate climax.
Grant can't contain himself any longer and shoots his load all over Gabriel's chest, marking their passionate encounter. And to return the favor, Gabriel eagerly sucks on Grant's sensitive cock, guiding him to the peak of pleasure.
The intensity of the moment builds as Gabriel, unable to hold back any longer, releases a torrent of intense, splattering cum all over Grant. Both men are left breathless, their satisfaction evident on their faces.
Their playful and naughty encounter has left them giddy with pleasure, and they can't help but desire even more. So why not do it all over again? Grant and Gabriel are ready for round two, and the excitement is palpable.
So get ready to witness the explosive chemistry between Grant Ducati and Gabriel Clark in this thrilling video. It's a passionate and seductive display of desire, pleasure, and unbridled naughtiness that will leave you wanting more.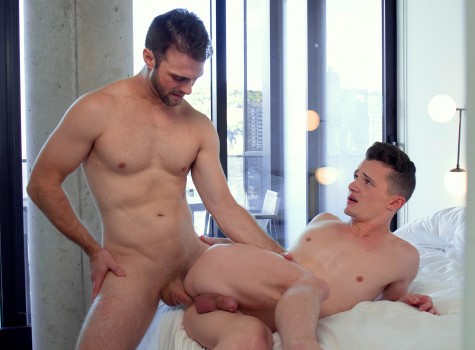 Video by Cocky Boys
Models in this scene
Other Scenes with these Models
Scene published on November 29th, 2022
FAQ about this scene
Grant Ducati
and
Gabriel Clark
are the main actors in this scene. Grant takes on a versatile role, while Gabriel showcases his skills as a top.
Grant and Gabriel have a playful and seductive dynamic. They can't resist each other's charms and strike a naughty 'deal' for their scene, where they both get to indulge in their desires.
What is Grant Ducati known for as an adult performer?
Grant Ducati
is known for his vibrant Southern charm, versatile performances, and his ability to create seamless chemistry with his scene partners. He brings a unique energy to each scene, whether he's playing a dominant or submissive role.
What makes Gabriel Clark a standout performer?
Gabriel Clark
is a confident, charming, and passionate performer. He has a timeless sex appeal and the power to put his scene partners at ease. Gabriel is known for exploring every era of CockyBoys' history and delivering mind-blowing encounters.
What can viewers expect from Grant Ducati and Gabriel Clark's performance in this video?
Viewers can expect explosive chemistry, passionate moments, and an unbridled display of desire and pleasure. Grant and Gabriel's playful and naughty encounter will leave you wanting more.
Date published: November 29th, 2022