Newcomer Hunter is about to embark on an unforgettable adventure as he eagerly steps into the world of CockyBoys. And who better to guide him through his debut than the well-endowed Noah Fox? With excitement coursing through his veins, Hunter is ready to take on this challenge head-on, quite literally.
With a mischievous twinkle in his eye, Hunter dives right in, relishing the opportunity to indulge in some dirty talk with the charismatic Noah. As Noah's impressive member disappears into Hunter's eager mouth, tears of pleasure stream down his face, making every moment all the more intense. It's clear that the connection between these two is off-the-charts, and Noah is definitely enjoying the experience just as much as Hunter is.
Noah starts things off at a relatively easy pace, but as he sees Hunter's ability to handle it, he cranks up the heat. The tantalizing moans and sweet whimpers of his newbie partner drive Noah wild, and he can't resist the intense urge to dominate. Will Noah give in to Hunter's pleas? Oh, you better believe he does.
But not without some tantalizing foreplay first. Noah takes a moment to skillfully tongue bathe Hunter's eager hole, sending shivers of delight down his spine. And let's not forget the thorough cock-sucking that Noah bestows on his willing partner. It's a symphony of pleasure as these two explore each other's desires.
As the heat continues to rise, Hunter taps into his bottom energy and mounts Noah like a champion rider. Their bodies move in perfect sync as they chase the ultimate climax together. But in a surprising turn of events, Noah flips Hunter onto his back and pins him down for an exhilarating round of deep drilling.
Just when you think things couldn't get any steamier, Noah pulls out at the exact right moment, unleashing a powerful load that lands on Hunter's face from a distance. And as if that wasn't enough, Noah goes the extra mile, thrusting relentlessly until he extracts yet another explosive release from Hunter.
When all is said and done, both guys are left feeling utterly satisfied. Yet, there's a special sparkle in Hunter's eye as he realizes that Noah didn't just pleasure him; he "wrecked" him in the most delicious way imaginable.
So sit back, relax, and get ready to witness the electrifying chemistry between Noah Fox and Hunter as they embark on this incredible journey of pleasure and desire.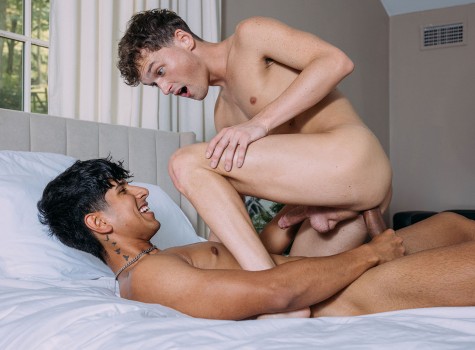 Video by Cocky Boys
Models in this scene
Other Scenes with these Models
Scene published on October 17th, 2023
Date published: October 17th, 2023