Our new series, "Made In Mexico," takes you on a captivating journey beyond the typical vacation-type videos. It's not just about showcasing the beauty of Mexico, but about introducing you to a group of extraordinary young men who call this vibrant country their home. These Mexican and South American CockyBoys are confident, open-minded, and unashamedly sexual. They live life to the fullest, cherishing each day as it comes. Get ready to meet them and fall head over heels, just like we did!
Welcome to Mexico City, where we have the pleasure of introducing you to Abraham Shehell and Alfonso Osnaya, two enchanting first-timers in the world of CockyBoys. Vibrant, friendly, and passionate, they embody the spirit of their homeland. With candid enthusiasm, Abraham & Alfonso present themselves, but they quickly prove that being friends with benefits can be just as thrilling as a passionate first encounter.
Their familiarity with each other allows Abraham & Alfonso to effortlessly ignite the sparks of desire from the very beginning. Alfonso's oral skills leave Abraham in a state of bliss as he surrenders to pleasure. But Abraham is not one to just receive; he eagerly reciprocates by orally pleasuring Alfonso, diving deep into his eager hole during a tantalizing 69 session. And when it's time for Abraham to take charge, you'll understand why Alfonso gushes, "He just knows how to fuck me."
The chemistry between these two is undeniable, and they explore every imaginable position, each one tailored perfectly to their unique preferences. Abraham takes the lead, pummeling Alfonso with fierce intensity, while Alfonso submits to the relentless pounding from behind. And when Alfonso mounts Abraham, their energy knows no bounds. They hold nothing back, engaging in a wild finishing act. Abraham rains a colossal load out of Alfonso, using it as lube to penetrate deep into his quivering hole once again. And as Abraham pulls out to release his own climax, he leaves Alfonso with a steamy reminder of their encounter. Pure and utter satisfaction in its most primal form!
Get ready to witness the allure of Abraham Shehell and Alfonso Osnaya as they seduce you with their uninhibited passion, boundless energy, and mind-blowing sexual chemistry. Explore the richness of Mexico through their captivating escapades and allow yourself to be swept away by a wave of indescribable pleasure.
We invite you to indulge in the sensual delights of "Made In Mexico." Join us on this intimate journey where desires run wild, boundaries are shattered, and dreams become reality. So, sit back, relax, and prepare for a whirlwind adventure that will leave you breathless!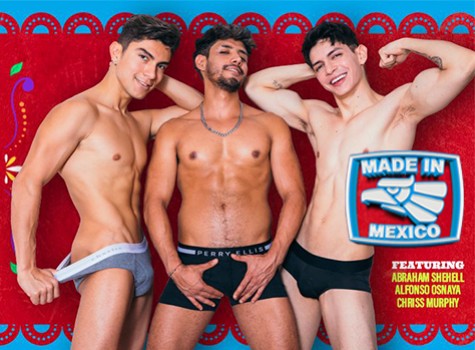 Video by Cocky Boys
Models in this scene
Other Scenes with these Models
Scene published on March 30th, 2023
FAQ about this scene
Who are the models featured in the scene?
What is the dynamic between Abraham and Alfonso?
Abraham and Alfonso are friends with benefits who have a familiar and effortless dynamic. They ignite sparks of desire from the beginning and explore their unique preferences in every position.
What are Abraham's skills in the bedroom?
Abraham is known for his confidence, dominance, and skills as a top. He is considered the 'best of the tops' with his well-endowed package, tantalizing rimming techniques, and mind-blowing fucking abilities.
What makes Alfonso stand out as a performer?
Alfonso is known for his blend of charm, sensuality, and raw talent. He has a reputation as a romantically passionate bottom and is praised for his ability to create genuine chemistry with his scene partners.
What can viewers expect from Abraham and Alfonso in this scene?
Viewers can expect intense chemistry, boundless energy, and mind-blowing sexual encounters between Abraham and Alfonso. They explore various positions tailored to their preferences, leaving nothing to the imagination.
Date published: March 30th, 2023