Experience the erotic and supernatural in this tantalizing video, "Happy Endings: Lane Colten & Tristan Hunter Part 2". Get ready for a wild ride as Tristan Hunter discovers that ghost sex with the incredible Lane Colten can take pleasure to new heights! Brace yourself for a steamy flip-fuck that will leave you breathless.
Tristan, a supernaturally sensitive individual, summons the irresistible spirit of Lane. Their encounter begins with playful and romantic foreplay, igniting the flames of desire. As the tension builds, their connection becomes palpable, with Tristan unaware that his beau Cody Seiya is secretly witnessing the passionate affair, only seeing Tristan's mimed actions.
Tristan and Lane dive into a world of intense pleasure, with Lane skillfully taking Tristan's member into his mouth, creating mind-blowing sensations. The insatiable Lane then takes charge, penetrating Tristan's eager hole and thrusting with fervor. Tristan eagerly receives Lane's massive cock, surrendering to the pleasure as he rides him passionately, leading them both to the incredible climax of ecstasy.
But the story doesn't end there. As Tristan lies beside Lane, basking in the afterglow, Cody's disturbed feelings begin to surface. Unbeknownst to Tristan, a brewing storm of emotions engulfs their relationship. The kinky neighbors, Daniel Evans and Sean Xavier, make a revealing appearance, adding a tantalizing twist to the narrative.
Now, not only must Tristan confront the consequences of his actions, but Cody demands answers. The once blissful love between Tristan and Cody hangs in the balance, leaving Tristan questioning the ramifications of his supernatural encounters.
Step into a world where pleasure transcends boundaries and desires mingle with the supernatural. "Happy Endings: Lane Colten & Tristan Hunter Part 2" will leave you longing for more while keeping you on the edge of your seat. Get ready to indulge in this fiery, naughty and playful adventure that will awaken the deepest and most hidden recesses of your desires.
So, why wait? Dive into this captivating video and experience the pleasure that awaits you.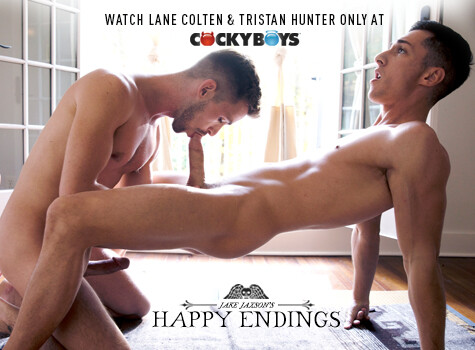 Video by Cocky Boys
Models in this scene
Other Scenes with these Models
Scene published on December 8th, 2022
FAQ about this scene
Who are the models featured in the scene?
What makes Tristan Hunter unique as an adult performer?
Tristan Hunter
stands out with his magnetic charm, versatility in roles, and ability to forge intimate connections with his scene partners.
What is the role of Lane Colten in the scene?
Lane Colten
is an enticing and adventurous performer who explores new experiences and embraces sexual liberation to create captivating scenes.
What sets Lane Colten apart from other performers?
Lane Colten
's friendly nature, adventurous spirit, and erotic allure make him an exceptional performer who delivers an electrifying experience.
Date published: December 8th, 2022